Fortress of Solitude
Posted on July 6, 2013
Difficulty: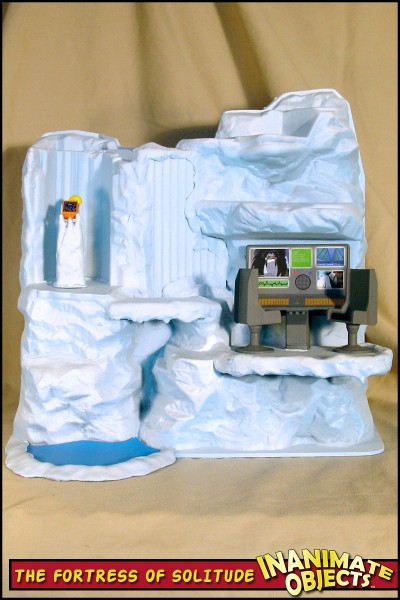 Batman has always had a Batcave playset of some kind, but I'd never seen anything made representing a place for Supes to hang his cape. I wanted to correct that oversight. I thought about a FOS for a long time before realizing the answer was staring at me from my own shelves. I had successfully converted the old ToyBiz Batcave a few years back, so why not do the same for a Fortress of Solitude?
The primary difference was making it represent ice rather than rock. In most cases, this was handled by paint. I used white, baby blue and navy blue spray paint in hazed layers. Some areas had to be physically changed, such as the "pipes" that emerge from the wall in the center. These and other details where cut off with the dremel saw. In the case of that middle portion, I attached a piece of ribbed styrene and covered the edges with plumber's epoxy, hoping this might create a feeling of ice sheets. Obviously, it looks like vertical rows of styrene, but, well, they can't all be home runs. I cut off the corners of the large platform, and covered both it and the smaller platform in the middle over with plumber's epoxy, followed by a candy shell of Alumilite to smooth it out. The "platform" was discarded and filled in with epoxy.
I tried to make ties with scenes from the show. The "entrance" is of course a pool of water, here represented by a cut sheet of styrene with epoxy edges. The computer features images from the show, including a view of the "zoo" hallway. (I really wanted to make something for the zoo itself, but have yet to think of a practical way.) The Orb of Krypton is merely a yellow marble resting on the body of a clear pen. I had already covered the large hole in this section with styrene from below and filled it with Alumilite to smooth it out. I drilled a hole for the pen body. The little orange "S" box it illustration board painted with a computer print I made of the S-emblem glued on top. It rests on a small block of wood covered in epoxy and Alumilite.
Overall, it works for me. And Supes is happy to have a place he can call home.
Jump to the downloads section to grab the necessary art to make your own custom Fortress of Solitude!
Created Spring 2002