Firefly (JLU)
Posted on July 1, 2013
Difficulty: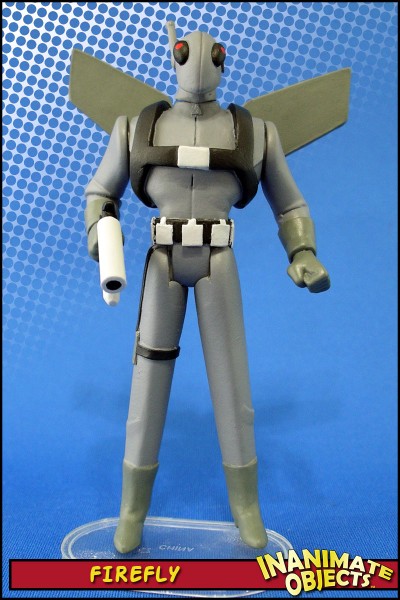 I've had the pleasure of working with renowned customizer Stew on several projects. Recently, he was working up some castings of the unreleased Firefly figure, and was looking for ways to make his castings more show accurate than the original sculpts Mattel created. I offered to help. These photos are the result.
Stew worked up most of the head and torso, while I concenrated on the rest. The head and backpack are made from Mattel's parts, though the backpack was modified to fit the straps, and the head now features the "button" in the left side that Mattel forgot. Stew extended the neck with a Copperhead neck. The straps and torso are standard Mattel parts, slightly modified. The limbs are from a Mattel Joker, with hands from the parts box. The holster and belt details are cut from vinyl. The gun was made from an existing gun piece and styrene. It is permanently attached to the hand, for ease of molding.
As usual, Stew did a great job in duplicating the parts. They're available for purchase here. Thanks for another great collaboration, Stew!
Created December 2011