Felix Faust
Posted on July 1, 2013
Difficulty: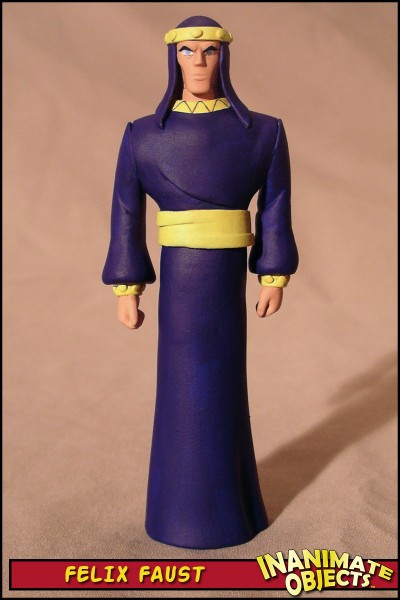 Felix Faust was never high on my list of customizing priorities. Not until the Lex Luthor figure from the "Superman:Doomsday" line was released. When I realized I had the perfect head and arms for Felix, it was all I could do to not work on Felix. (Translation: It took me two months. That's life with Little Thumper in the house!)
As I said, Lex's head was near-perfect for Felix. Just check out those sunken cheeks! The suit jacket arms would work nicely, too, once some extra material was added to the bottoms. However, once Lex's jacket was removed, the torso had to be rebuilt, as the jacket holds the arms in place. Please see the work-in-progress photo below.
You'd think after making several wedding dress skirts from scratch, I could handle one as simple as this. Alas, I was not satisfied with the results. Then I remembered I had a spare skirt from a Mulan figure. I couldn't ask for a better fit!
The belt and headdress are either Super Sculpey or Magic Sculpt. Ultimately, he ended up being a tad short for my tastes. Serves me right for comparing against a standard Mattel Superman figure.
Created Fall 2007