Emil Hamilton
Posted on June 30, 2013
Difficulty: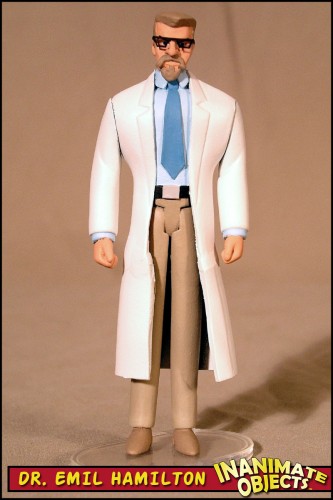 Professor Hamilton is another project that started from Glassman's fantastic head-sculpts. We're very lucky Glassman is so talented, and can share his work on a limited basis.
I followed Glassman's lead on the recipe, too. The base body is a DC Direct "Superman: Doomsday" Lex. It's a bit small in the shoulders for Hamilton, but the overall look is perfect. The tie and belt are cut from vinyl. The glasses are cut from a blister bubble, with the "frames" painted on. The most difficult aspect was extending the coat. Frankly, I'm not pleased with the result. (You'd think I'd never done this before… I have.) The vinyl wouldn't cooperate. I ended up slicing the bottom portion from a TMNT Cody jacket. It matched the curve, but it was much thicker than Lex's jacket. Thus the roughness. It'll do for now, though.
Thanks to Glassman, without whom this project would not have been possible.
Created Fall 2008