Edmond Wayne (White Knight)
Posted on September 14, 2023
Difficulty: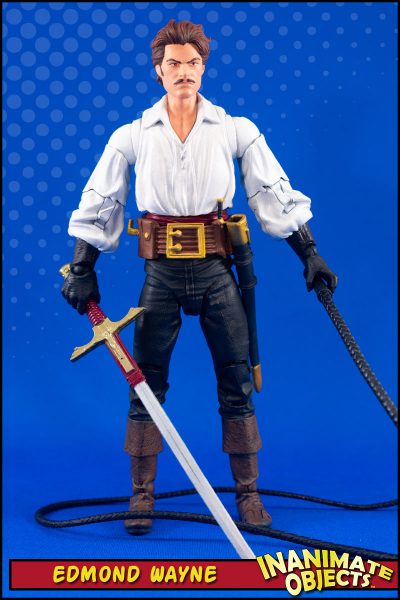 Sean Murphy's "Curse of the White Knight" story provides a fascinating (and complicated) history of the Wayne family in his Bat universe. We learn of Batman's ancestor Edmond Wayne, and his efforts to bring justice to early Gotham.
This was one of those projects I had not considered until I realized the parts already existed, and then everything fell into place. The base figure is McFarlane's Princess Bride Westley. The main change I made was to fill in the texture of the sleeves at the shoulders with Magic Sculpt. Edmond's belt is very similar to Batman's, so I adapted it, cutting a chunk from the back side to fit the trimmer waist. The head was sculpted by the Toymankid on CGTrader. It's meant to be Peter Parker, but felt it was similar to Murphy's depiction of Edmond. I mirrored the file, printed it, and added a mustache with Magic Sculpt. Edmond carries the sword Azrael ends up with, so Edmond reclaimed it. The whip comes from the McFarlane Knightfall-era Catwoman figure.
It was fun working on a design that wasn't spandex or a tailored suit. Period pieces are fun!
Created June 2023