Devil Doll
Posted on June 1, 2019
Difficulty: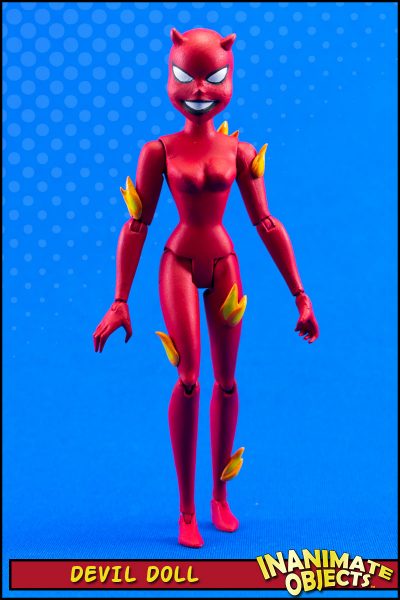 If you're reading this site, then you already know I'm a big fan of Bruce Timm's artistic style. I am fortunate to have some prints of his work. One such print features three female analogs to the WWII era "Invaders," consisting of Captain America, Namor, and the original Human Torch. It hangs in my studio, and I was inspired to craft some custom figures of the characters.
Before I discuss the recipes, I should explain that I made/assembled/sculpted/customized each of these with only the print on my wall as reference. Imagine my surprise when, shortly after I finished the dimensional work but before most of the paint, I learned these three ladies had appeared in a comic and had names! @BruceTimmCollector on Instagram happened to share some art from the comic entitled "King Fu Bible Stories." It was an anthology book released during SDCC 2014. It features a Bruce Timm story starring "The Fightin' Femmes of WWII." And thus I officially met Devil Doll, Neptuna the She-Serpent, and Vicki Victory. With this new reference I was able to make some changes to the figures, though some aspects were locked in.
As you might guess, Devil Doll was the easiest of the three Fightin' Femmes to customize. She's a TNBA Catwoman figure, with horns added and painted red. I didn't add the sculpted flames until after I thought I was finished, because it wasn't until I saw the comic that I knew the flames should exist! (They aren't present in the print.) But it wasn't to hard to do so via Magic Sculpt after the fact.
Created Spring 2019