Clark Kent
Posted on June 29, 2013
Difficulty: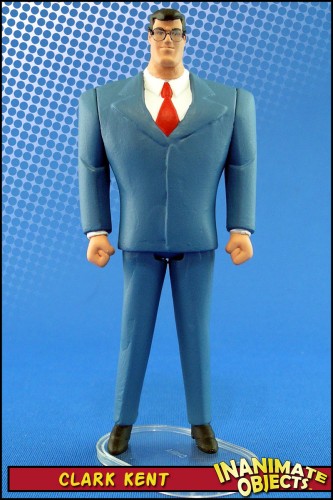 Many moons ago I created a Clark custom. It was pretty weak, even for the time, and it sat on a dark corner of my shelf ever since. However, as I've recently made several citizens of Metropolis, I realized that old Clark would never do when standing next to his new pals. Thus, it was time for a replacement.
Despite that laudable goal, this particular custom never caught and held my attention like some others do. He was always brushed aside for more exciting projects. I'd work on him while something else cured. Sadly, he never really got the attention he deserves. I think some quality fell by the wayside as a result.
Still, he's heaps better than the 15-year-old piece of junk!
Clark's torso and arms are from a Mattel suited Lex. His legs are from a Mattel Joker, widened at the top. The head is a cast of the second and superior Hasbro Superman sculpt. The glasses are punched from clear vinyl.
Created January 2012