Cheetah
Posted on June 30, 2013
Difficulty: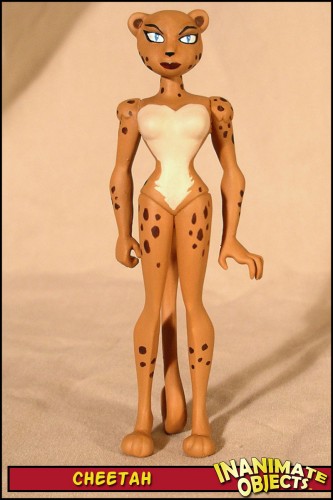 Cheetah is one of the many female villains I've wanted to make for some time now. I'm happy to have had the time to tackle this project now.
Most of Cheetah's recipe is that of the amazing Mike Danza, followed closely by my pal Tyke. As with both Mike and Tyke's versions, my Cheetah uses a Wonder Woman base. The details were sanded off, and the heels of the boots removed. Kneadatite forms the "toes" and tail, and the few areas of dimensional "fur." Her left hand is a Mattel Catwoman's.
The head is a Mattel Catwoman. I chose to differ from my guides' recipes by sculpting over Catwoman's smiling mouth. (If only to be different!) I should say that sculpting Cheetah's head proved more difficult than anticipated. Not because of any dimensional complexity, but because her head is drawn with a different shape from shot to shot in the show. I have two images of her in profile in which her nose is an entirely different shape. Those crazy animators! Nonetheless, I think I found a happy medium, though I realized after the paint was applied one eye is slightly larger than the other.
My Injustice gang grows…
Created Winter 2005