Catwoman (TNBA)
Posted on June 30, 2013
Difficulty: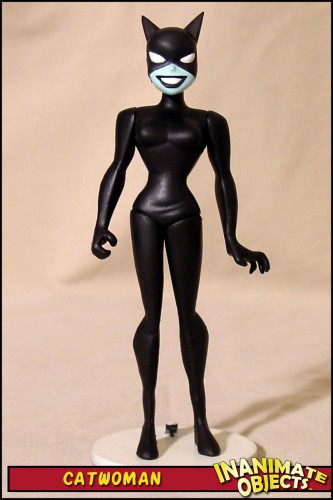 The new school females have always been some of my favorite designs. I've made customs of almost all the gals over the years, but I keep going back in an effort to improve upon them. Now that Mattel has made Hawkgirl available (the best female base yet), I'll be remaking almost all the female characters yet again.
The first up is Catwoman, primarily because she was easiest as I transition back into the habit of custom making. Hawkgirl's few details were Dremeled away or filled in with Kneadatite and smoothed. Hawkgirl's Popeye forearms were Dremeled down a bit, and the left hand was replaced with a Mattel Catwoman hand. (I should say that, as much as I like the Mattel Catwoman, she's too danged small!) The body was then primed and painted black. I used a Mattel Catwoman head, only expanding the hole at the bottom of the skull to accommodate the new neck. I didn't even repaint it. (Except for toning down the blue a nit, there's not much that's needed.)
Finally, after several tries, I think I have a new school Catwoman that will tied me over for awhile.
Created Fall 2003