Carpenter
Posted on August 12, 2018
Difficulty: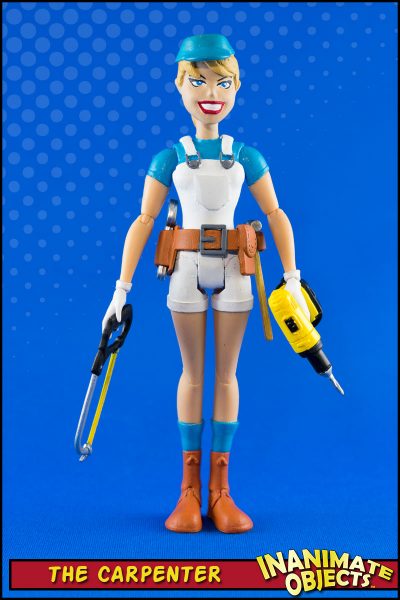 I very much enjoyed Paul Dini's run on Detective comics a few years back. His stories, as one might expect, ring true with the characters in ways that other writers often miss. In that time, he also expanded the roster of Gotham weirdos as only Mr. Dini can. Among those was the Carpenter. Originally working as part of Mad Hatter's Wonderland gang, she now operates independently as the go-to construction service for Gotham's underworld.
I've wanted to make a Carpenter figure for years. I've gone back and forth whether it should be animated or comic style. I settled on a compromise by making her animated 6″ scale!
Her base is Supergirl. I removed Supergirl's skirt piece only to find all kinds of strange holes and slots designed to fit the skirt. Filling those in while maintaining articulation was a challenge. The few sculpted details, such as the socks and overalls, are added using Magic Sculpt and vinyl. Her head is a casting of my Harleen head. (In retrospect, I wish I had used a non-smiling head.) The hat is magic Sculpt.
I've been tooling around with this figure (see what I did there?) for over a year. Some kind soul sent me her tools and tool belt. I am so sorry, but I can't remember who that was! If it was you, contact me so I can give you proper credit!
Now I have someone to build all the playsets that exist only in my head.
Created July 2018