Captain Boomerang
Posted on June 30, 2013
Difficulty: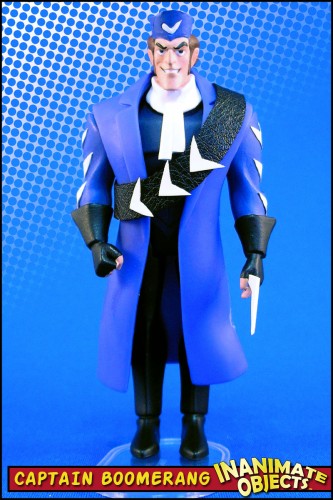 Mattel recently gave us a legitimate Captain Boomerang figure, and for that, I applaud them. However, Mattel chose to outfit Boomer in his Silver Age duds, which appeared in a Justice League episode for all of 5 seconds (and that was a "commercial"). Why they didn't opt for the outfit from "Flash and Substance" is beyond me.
I started with Mattel's Boomer figure. I removed the tunic and head first. The neck portion of the scarf is part of the head piece, and I hollowed out a chunk of the underside so it would sit on the bare torso properly. I cut out part of the scarf length from the tunic and glued it to the neck. Additionally, I shaved down the hat to be a bit shorter, and trimmed the hair in the back. I added some sideburns and tufts of hair at the neckline with Magic Sculpt.
I had shown a "preview" image of Boomer at Custom Justice. I'm pleased to say elvis8batman contacted me and suggested I swap Boomer's original legs for the standard booted legs. He was right on the money, and I made the correction immediately.
The coat is taken from the Question. The boomerang bandolier (is that what this would be called?) is cut from some textured vinyl. The boomerangs are cut from clear vinyl.
The rest is just paint, made to match the unpainted coat in the case of the arms and hat.
Created Winter 2010