Calendar Girl's Henchmen
Posted on June 30, 2013
Difficulty: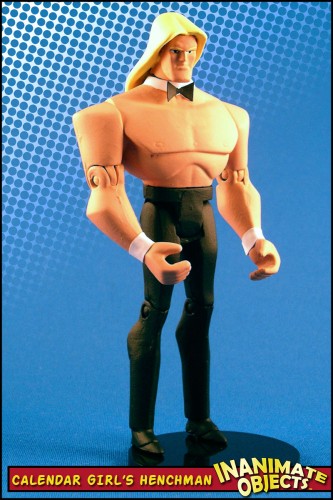 All Gotham villains need Henchmen. Calendar Girl is no exception. After seeing recent versions of Calendar Girl and her crew by Crushinaguy and Kyoishere, I was inspired to create my own team.
I wanted these fellas to be big enough to fit in among their TNBA Hasbro brethren, so I used a Mattel Aquaman as the base. Iswapped Aquaman's hook arm for a Martian Manhunter arm. The elbow joints of the two are fully compatible, but a tremendous pain to re-fasten!
I should have sculpted the cuffs of the pants, but I got it in my head that swapping the lower legs for some old Joker and Ra's legs would be easier. That wasn't exactly accurate. It took far more effort to smooth out the seam sculpting. Live and learn.
The blond's head is a Mattel Superman, with Witchblade hair. The African-American's head is a Mattel John Stewart. And the final fella's head is an old casting of a Jack-in-the-Box Superman, with new hair.
Created Summer 2009