Calendar 2013
Posted on July 6, 2013
Difficulty: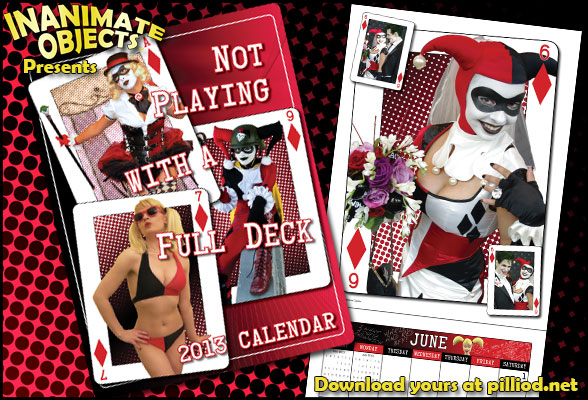 It's Year 4 of the Inanimate Objects calendar! This year's is the most exciting yet, as I was fortunate enough to collaborate with some of the best Harley Quinn cosplayers in the observable universe: Tara Strand, Laura Magnusson, and DesiRee Preston. They're all creative souls overflowing with talent. Thanks for participating, ladies!
As always, I'm making it available to everyone! You can download the full calendar as a print-quality PDF file, and then take it to a local printer. (I no longer recommend Office Depot.)
For my international friends using paper size A4, I recommend printing with "shrink to fit available size" turned on.
So happy 2013, folks! Enjoy! Jump to the downloads section to grab yours!
Created December 2012