Bud and Lou
Posted on June 30, 2013
Difficulty: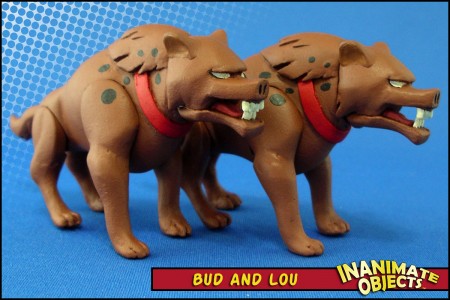 Last year I worked up a Krypto figure after seeing Quartermain's version. We chose different bases for Krypto, but seeing what Quartermain did planted the seed in my mind for making Bud and Lou. I'd been trying to crack the recipe for Bud and Lou for years. No pre-made hyena sculpt came even close to the specific animated stylings of these two. However, the "Secret Saturdays" critter that was popping up on clearance was strikingly close.
As you can see from the photos, a lot of work went into these guys. The only part of the original base head that remains is the jaw. The shoulder hump was built up. The lower portion of each leg came from a PVC wolf figure, carefully blended into the existing legs. A new tail was crafted from scratch.
To make this project even more interesting, I knew I wanted both Bud and Lou on my shelf, but I was not about to try and craft two of these. To that end, I enlisted the efforts of my pal Stew. Doing so meant I could create duplicate castings for myself, and for other customizers. Everybody wins!
Bud and Lou castings are still available from Stew.
Created December 2011