Black Phantom (Bombshell)
Posted on June 5, 2020
Difficulty: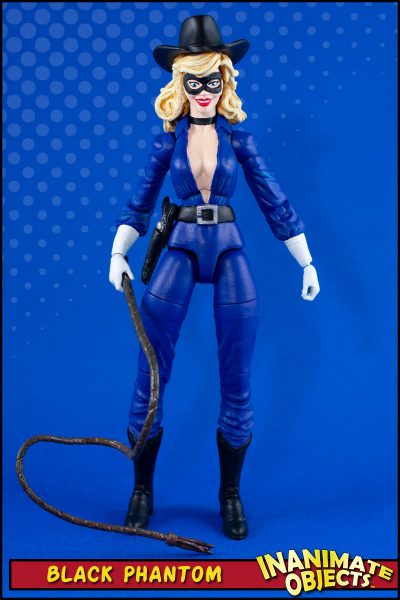 Diamond Select released a few characters from Westworld. I knew the "outlaw" Delores figure would be useful, I just wasn't sure how yet. So I posed the question to the fans of Inanimate Objects: what could be made from Delores in a DC Bombshells style? The best answer I received was Black Phantom, a Golden Age cowgirl villain turned anti-hero. I was not familiar with the character, but a little bit of research proved the fans were right. Black Phantom was a perfect candidate for my Bombshells customs.
(How does an 1880s cowgirl vigilante fit in with 1940s Bombshells? I figure she was somehow displaced through time, much like Lady Blackhawk was with the early 21st century Birds of Prey. Just go with it.)
As much as this started with a desire to use the outlaw Delores figure, I only used about 40% of it. From the swivel thigh joint on down is Delores. And that's her hat and holster. But that's all that was used in the end. A new peg was built from a styrene rod for the thigh joint. Magic Sculpt was used to fill the gap. The holster is connected to the sculpted belt via magnet. This will allow easy removal or repositioning if I ever give Ms. Phantom a horse.
The torso and hands come from a DC Essentials Harley. The face is a casting of Bombshells Harley, and the hair comes from Bombshells Mera. The arms below the shoulders come from DC Direct 1980s-era Black Canary. (The poofy sleeves were perfect!) The details are Magic Sculpt.
Created May 2020