Batman (White Knight Beyond)
Posted on September 14, 2023
Difficulty: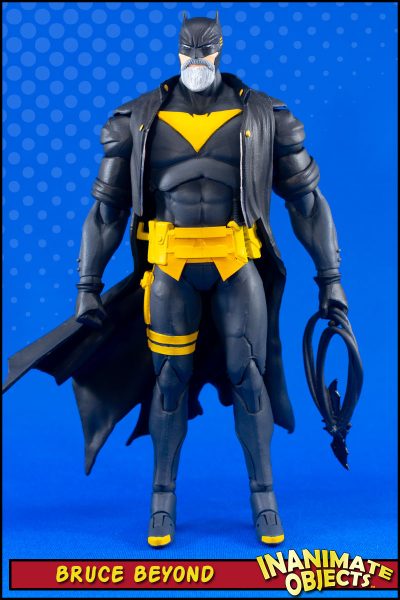 Sean Murphy's "Batman: White Knight" series continues to deliver, bringing us new spins on classic characters. In "Beyond the White Knight," we meet an older Bruce, imprisoned and identity made public. But no cage can hold Batman! Which eventually leads to this new design.
The base figure is the standard White Knight Batman. Past and future belts are similar, so I only had to modify the center portion using cuts of vinyl. The bat emblem was heated and pulled off, filled over with Magic Sculpt, and the new emblem sculpted on top. The coat comes from the Dark Detective Batman figure.
The masked head is the basic White Knight Bats with a newly sculpted beard. Unmasked is a bearded Aquaman sans hair. I sculpted the spikey hair and the half-cowl thing. Sleeve details were sculpted. Buttons were cut from styrene rods.
Not gonna lie. This guy was tougher than I expected. But I think he pulled through in the end.
Created June 2023