Batman (Holiday Knights)
Posted on June 29, 2013
Difficulty: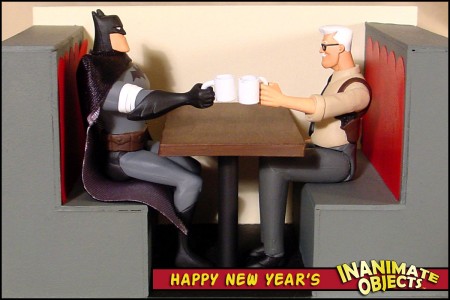 This pair of figures had been on my to-do list for a long time. "Holiday Knights" was the first New School style episode to air back in 1997, and it made a big impression on me. This short but poignant scene was not something usually witnessed in a 22 minute cartoon, and I felt it captured the relationship between Bats and Gordon very well.
Obviously, both characters are made from their respective Hasbro incarnations. The knees were sliced at angles, then resculpted (where necessary) and glued back on. One of Gordon's arms was resculpted, so as to hold the mug. The bandage on Bats' arm is vinyl. Bats' cape was almost an after thought. I didn't want to go to the trouble of messing with vinyl, and the Hasbro cloth capes are murder on the paint around the neck. About the time this was finishing up, the Mattel cloth capes became available. Aside from the pointy shoulders, the Mattel cape works great.
The booth is simply illustration board, with laser-printed seatbacks. The cups are styrene tubes with leftover pieces glued as handles.
I had intended to unveil these last New Year's. The figures were sculpted, but time prevented me from painting them or constructing the booth. I apologize for the delay.
Created Summer 2003