Batman (Flashback)
Posted on June 29, 2013
Difficulty: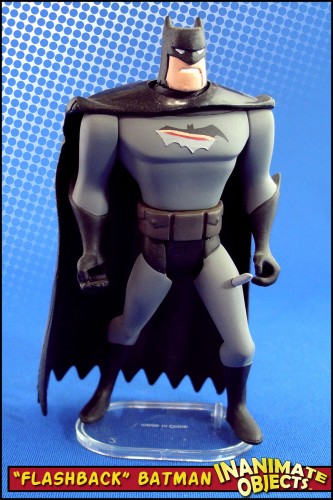 If you haven't seen the "true" version of Batboy: Return of the Joker, you don't know what your missing. God is in the details my friends, and Warner Bros. attempted to kill God by removing these great details. Some of those details include the whooping Bats takes at the hands of the Joker. At one point, he gets knifed across the chest, stabbed in the leg and blood trickles from his mouth.
For the most part, this is a repaint of one of many versions of the posed Bats figure, now having been released by Hasbro numerous times. The tear along his chest is a piece of styrene. (For the record, this tear and the blood along it do appear in the "real" version of the film for a few frames. However, a few seconds later the tear seems to have miraculously mended itself.) The knife in the leg is a small piece of metal dowel rod with a Kneadatite handle. I drilled a small hole in Bat's leg, thus allowing the knife to be removable.
I swapped out the standard Bats head with the head from a "Jungle Tracker Batman," as this was the only new school bats head sculpt I knew of that featured an open mouth. (Again, thanks to Yer Pal Boneyard for the help!) Using this sculpt made the trickling blood appear to make sense.
A nice paint job and Detective Bats cape and Flashback Bats is ready to uh, er, fight back.
Created Summer 2001