Batgirl (Cassandra Cain)
Posted on June 29, 2013
Difficulty: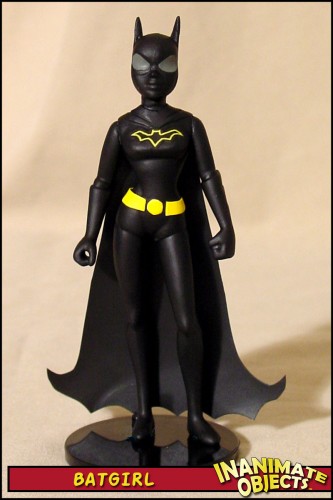 Some time ago I stumbled across some fan-art of the Cassandra Cain Batgirl drawn in an animated style. I really enjoyed that image, and was inspired to make a custom of her. (Regrettably, I don't recall where I saw the image, or I'd give proper credit.) This is my take on the idea.
I used the Mattel Batgirl (from the TRU "silver" 4-pack) as a base. Normally I find the Mattel Batgirl and Catwoman figures far too small, but as Cass is supposed to be fairly young (16? 17?) I didn't mind. The head is a casting of a Jack-in-the-Box Batgirl, with the eyes filled in and the ears extended with Kneadatite. The belt and cape are cut from vinyl. The neckline of the cape is sculpted from Kneadatite, though it's not fully apparent in the photo. The emblem was laser printed and then applied using decoupage.
I'm very pleased with this one, and she's a great warm-up to my next set of projects.
Created Fall 2003