Barbara Gordon (Commissioner)
Posted on March 22, 2014
Difficulty: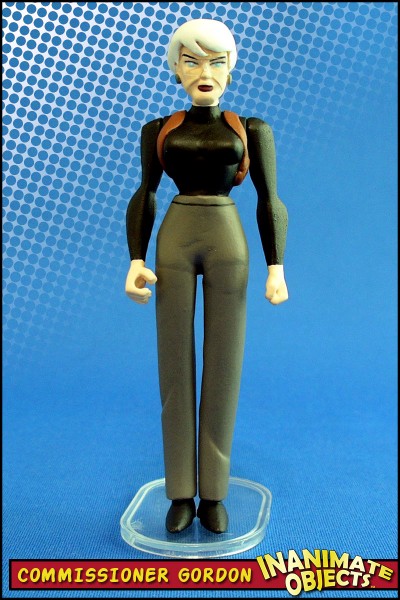 Once I had finished my Detective Renee Montoya custom, I knew she'd make a viable base for a Commissioner Barbra Gordon custom. I had castings made, so I didn't have to start from scratch.
The main difference between Renee and Babs' body sculpt is the belt. Babs does not have it, and her waistline is higher. Some Dremeling and Magic Sculpt solved that.
Babs' head was another matter. I ended up using a Justice Lords Wonder Woman head that had previously been modified and discarded. (I don't recall why.) I built up the hair with Magic Sculpt, which turned out to be a challenge as that amorphous shape is tough to nail down. I also shaped the chin a bit, and added some sculpted lines on either side of the mouth. (The jury is still out regarding the worth of that idea.) The glasses are cut from clear vinyl, and held in place with the tiniest drop of super glue.
Created March 2014