Baby Doll (TNBA)
Posted on March 22, 2014
Difficulty: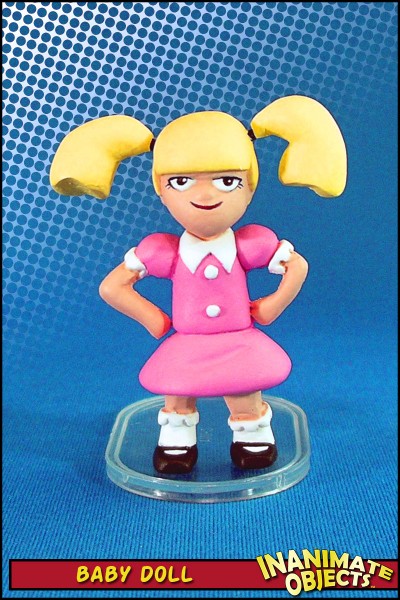 Baby Doll is one of the most difficult customs to make. The TNBA version can be especially vexing, as the simplicity of her design allows no room for error.  I have tried many times over the years, and I have the discarded sculpts to prove it.
Thus I was thrilled when my pal Hunter Knight told me he had crafted a Baby Doll. I knew without seeing her she was going to be great, such is Hunter's skill. And I was right! I was twice thrilled when Hunter was able to make a casting for me. Finally, Ms. Dahl would be on my shelf!
What you see here is 98% Hunter's sculpt. I made a few minor adjustments to suit my tastes, such as smaller buttons on her top. I also separated the pigtails, inserted a styrene rod, and made them articulated (sorta).
Thank you, Hunter, for sharing her! Now let's see you tackle a BTAS version!
Created March 2014