Baby Doll (BTAS)
Posted on May 24, 2019
Difficulty: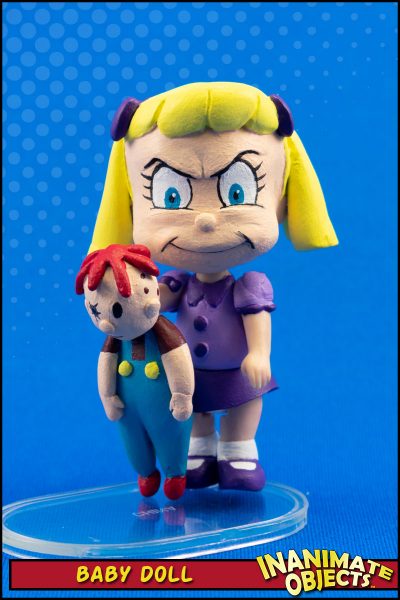 Zelu1984 continues to be one of the most inspiring animated style customizers I've known. I see his stuff, and I only wish I had time to copy more of his work!
That's what this BTAS Baby Doll is: a copy of his Zelu1984's excellent work! He cracked the recipe; I just followed along.
She starts from the most obvious place: a TNBA Baby Doll. The body work wasn't too tough. The skirt was cut a little shorter, and the legs were extended and given new feet. The buttons were removed and relocated. The real challenge was the head.
Continuing to follow Zelu1984's lead, I cut off the pigtails and as much of the hair as possible. I also Dremeled off the nose and the brow. The whole face had to be re-sculpted and raised up. Several rounds of sculpting were necessary to reshape the head, the hair, and the face. In the end, I chose to give her an angry expression. Because, really, angry toddlers are terrifying.
Baby Doll's Mr. Happy gun is 100% newly sculpted (using Pro Create and Magic Sculpt). A little paint, and the two of them were ready to terrorize Gotham, as only a child-sized criminal can do!
Created Spring 2019