Atom Smasher
Posted on June 29, 2013
Difficulty: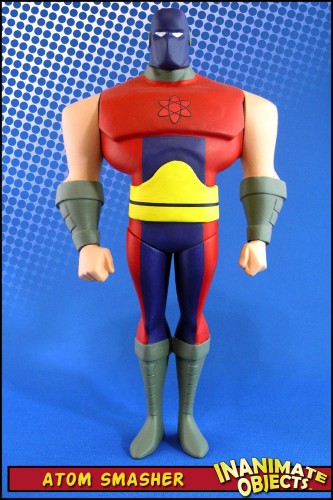 Atom Smasher may take the prize as the custom that took me the longest to finish. He's been sitting on my desk, in one form or another, since just after Dark Heart aired way back in 2004. Somehow, I kept getting sidetracked by other projects, and he was always pushed back. I'm happy to say he's finally finished, and standing proudly on my shelf.
The base body is a 10″ Superman. The cape was removed, and the existing details smoothed over, filled in and Dremeled off. The belt and portions of the boots, gloves and head are made from epoxy. (It's been so long I can't remember what kind!) Vinyl strips make the little rectangles on his boots and gloves.
The emblem was made in Illustrator and applied via decoupage.
He's finally finished, and stands proud and tall amongst his teammates!
Visit the downloads section to grab an Atom Smasher emblem for your own customs!
Created Spring 2006