Alfred Pennyworth (Snyderverse)
Posted on July 24, 2022
Difficulty: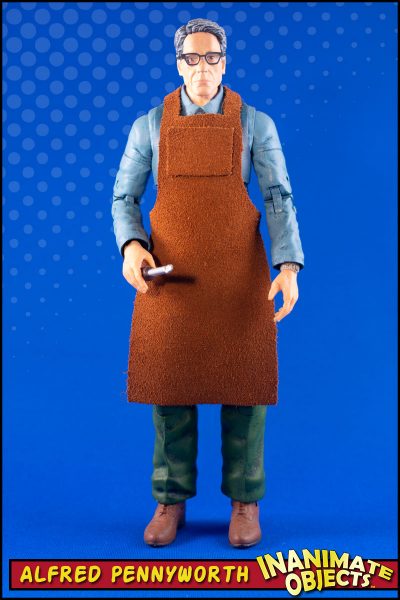 I don't think there's ever been a poor choice in Alfred casting, on camera or voice actor. But amongst an elite group, Jeremy Iron's Alfred stands out. Just the perfect blend of fatherly affection and snark.  As of this writing, he's also the only on-camera Alfred whose costume color pallet goes beyond basic black. Between two movies, he has several wardrobe options. I settled on this one because I liked the blues and greens.
The body is a Diamond Select Westworld Bernard with the jacket removed. The hands are from a NECA Back to the Future Doc Brown. The 3D-printed head was purchased on eBay. The glasses came from a Mattel Alfred '66, I think.
The apron is cut from crafting leather. I glued a small magnet to end of one "tie," and a matching magnet was embedded in the small of his back. The magnets sandwich the second tie in place, and keep the whole apron from sliding around.
Created May 2022