Alfred Pennyworth
Posted on June 29, 2013
Difficulty: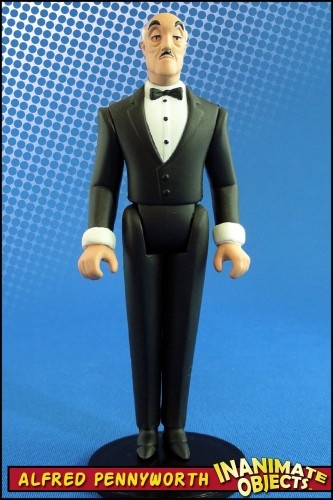 Dear Hasbro, Thank you for providing us fans with an Alfred. I hope you'll continue to provide us with other characters we're clamoring to see molded in plastic. To that end, please do not take offense at my reworking of your latest offering.
Your Alfred head sculpt is an excellent old school piece (had that laying around for a few years maybe?), but I wanted a new school Alfred, so I simply painted his head to match.
Second, while the use of Joker's arms was inspired, Alfred does not normally wear gloves. I simply sculpted him some shirt cuffs over his wrists. (True, the cuffs should be under the jacket, but let's not start calling the kettle black.)
Finally, I painted his hands and shirt studs. As I said, Hasbro, thanks for making Alfred. I hope we'll see more characters soon.
Created Fall 2000