Adversary
Posted on March 22, 2014
Difficulty: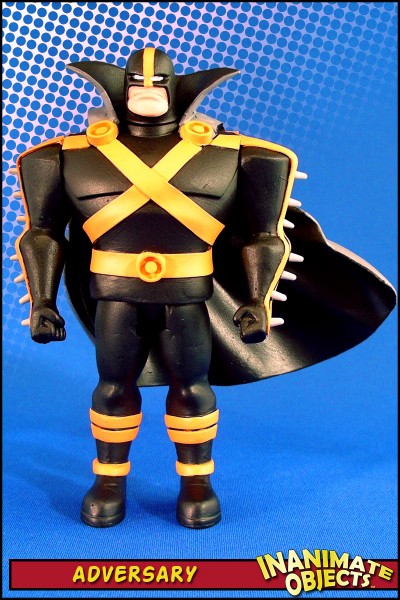 Adversary appeared in only a couple of issues of Superman comics in the early 2000s. He was meant as a parody of the many over-the-top villains of the preceding decade. The character didn't really take off with fans, and he hasn't been seen in comics since.
A short time later, the writer of those issues was working on JLU scripts, so he snuck Adversary into a background image of a news broadcast in an episode. Honestly, I'd have forgotten his appearance if Stew hadn't developed this kit.
I used vinyl to make the many orange stripes. The spikes are from an old Chun Li figure (never throw anything away!). The "skirt" of the shirt is sculpted from magic sculpt. The three "clasp" circles are made from hollow styrene rods. The cape is from an old Speed Racer villain. The cape, the head, and all the limbs are held in place with magnets.
He's a great, imposing addition to the shelf.
Created March 2014