Where can I purchase Pro Create?
What is Pro Create?
Pro Create is another epoxy used for sculpting. It's a two-part mixture that takes about 4 hours to cure. The cured result is much like a tough rubber or plastic. I find it best suited for creating delicate but flexible details like hair. It's very sticky, but you can help (
read more...
)
What are silicone sculpting tools?
These look like brushes with rubber tips in various shapes. They are indispensable for sculpting! I wish I had found these sooner. They are excellent for shaping details like hair in the sculpting medium of your choice. These are recent additions to my tool kit, but now I can't work (
read more...
)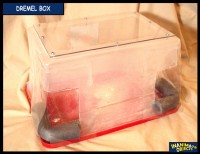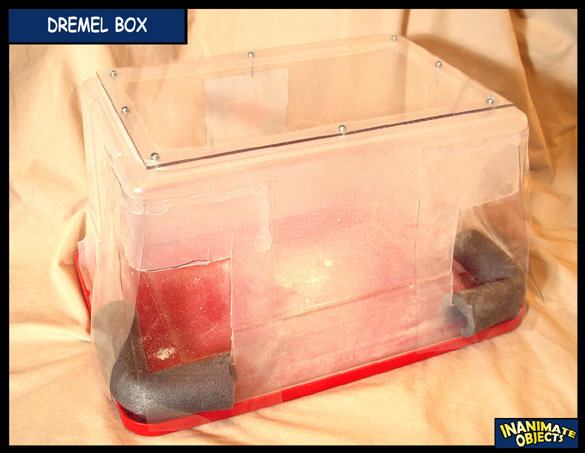 What is a Dremel box?
A Dremel box is an ingenious apparatus that allows you to drill and sand without making a huge mess in the room you're in. Depending on the material being altered, drilling and sanding can produce a lot of debris and dust. A Dremel box keeps most of that contained. I (
read more...
)
Why would I need access to a computer?
Why, for all the great Inanimate Objects downloads, of course! You can print emblems and costume details, as well as some Inanimate Objects playsets. I've also used Photoshop to test ideas by making "virtual" customs. I'll lay a figure on a scanner and scan an image of the (limb/head/chest/etc.) that (
read more...
)
How can I sand figures to a smooth finish?
Every substance has its own qualities, be it ABS or PVC plastics, Magic Sculpt or Alumilite, styrene or wood. If I need to remove a large mass of something that can't simply be cut off with a mat knife or saw, I'll reduce that mass with the large, coarse sanding (
read more...
)
Where can I find emblems to print?
You can many emblems in the Inanimate Objects downloads section. (
read more...
)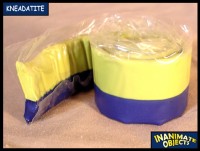 What is Kneadatite?
Kneadatite is a two-part, air-drying compound. It's primarily designed as a plumber's epoxy, but artisans have found it to be a great sculpting medium. When mixed, it is pliable and holds its shape. It cures in about four hours with a consistency not unlike PVC plastic. I prefer air-drying over (
read more...
)
Where can I find printed backdrops?
If you see something printed in the backdrop of an Inanimate Objects photo that's not on the download list, drop me an email. I may be able to help. (
read more...
)
Where can I purchase Kneadatite?
I purchase Kneadatite directly from the manufacturer, polymerics.com. (
read more...
)