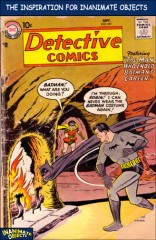 What was the inspiration for the site's design?
Golden age comic books, of course! Specifically, old and beat up ones. When I design something of this nature, I like to start with a general theme and work my way towards the specifics. For this most recent design, I had spent weeks racking my brain for a satisfying concept. (
read more...
)
How many years have you been making your own action figures?
If you mean how long have I made a concentrated effort at making these figures in a consistent size and quality? Since 1995. If you mean in general, since I was old enough to take a screw driver to the back of a G.I. Joe figure. (
read more...
)
I know you don't normally sell your figures, but my favorite relative is getting married soon. Will you make me a set of wedding figures for the cake?
Sorry, but no. I simply don't have the time or resources to invest in producing more than my share of projects. (
read more...
)
I represent a charity/non-profit organization. Would you be willing to donate some of your work?
As with selling my figures, it's not a matter of money so much as time. I simply don't have the time to fulfill such requests. I'd be happy to offer advice and tips to those who might like to try custom toy making themselves. (
read more...
)
I've got photos of my own customs. If I send them to you will you host them for me?
Unfortunately, I am only able to feature my own work at this time. (
read more...
)
Where can I see other great customs?
I used to answer this question with a long list of links. Sadly, I've been at this for so long that most of the sites dedicated to the subject or even a specific artist are long gone. Most folks now have moved their galleries of work to social media platforms. (
read more...
)
Will you sell me a figure, and if so how much?
Between work, family, and my own projects, I rarely have the luxury of time for commissions. So chances are, no, I won't be able to create and sell a custom on demand. (And the existing figures are not for sale.) Alternatively, I hope that my web site will inspire others (
read more...
)
How long have you been a Batman fan?
Since I was old enough to watch TV. I probably learned to read with the words "Pow," "Bam, and "Crunch." Of course, this leads to vaguely disturbing memories of not understanding why I got uncomfortable whenever my mother was in the same room and Yvonne Craig was on TV. (
read more...
)
How much time and money goes into each figure?
Well, from the initial desire to make the figure to the final product can literally take years. Sometimes I'll want to make a character, but the means of making it won't exist yet, or might be too costly at that time. Other times I'll have a hard time figuring out (
read more...
)
How do you decide which figures to make next?
I keep a running list of characters I'd like to see standing on my shelf. Given the responsibilities of real life, sometimes it can take years to work through a chunk of that list. But some characters jump the line. Maybe a new part of base figure just became available, (
read more...
)