Statue Sale!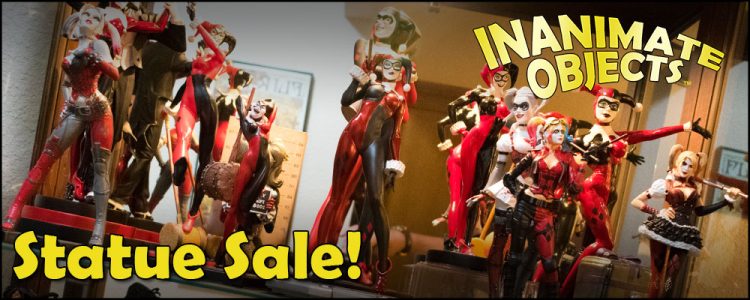 After some intense soul-searching, I have decided to reduce the size of my statue collection. Now's your chance to pick up some great pieces! Many of these have long been "out of print." There will be couple of customs. And yes, this will include a whole bunch of Harleys!
I've got several dozen to post over the next few weeks. I thought I'd start with the two gems: custom built and painted Harley statues by yours truly.
Prices will include shipping within the contiguous United States, unless otherwise specified. If you're outside that area, I'll do my best to give you the best shipping rate I can find. If you're in the Dallas, TX area and want to arrange local pick-up, let's talk.
Payment via PayPal. (Unless it's a local pick-up, in which case cash can work, too.)
See something that tickles your fancy? Drop me a line at casimir@pilliod.net. Let me know which piece(s) you are interested in by number and/or title.
---
1. Custom Harley Quinn Statue #1
$200
---
2. Custom Harley Quinn Statue #2
$200
---
3. Harley Quinn Cryptozoic Bombshell Sketch
$40
---
4. Harley Quinn Cryptozoic Bombshell Red, White & Blue
$40
---
Dozens more to come!